Invest in yourself – get FREE and Discount Guitar Courses. Course links below automatically apply discount coupon codes.
Also, watch regular content on the GuitarBasement YouTube Channel. Stay up-to-date with the latest FREE insightful videos. Learn technique, guitar music reading, music related book and product reviews, and more. Post comments and questions and receive feedback. Subscribe and get notified whenever new videos are posted.
Discounted Guitar Course Coupons on UDEMY
Receive lifetime access to all courses below. Use the course links below. Discount guitar courses are embedded in the links.
The Learn Fingerstyle Guitar & Read Music – Beginner's Course is based on the book, Guitar In Real Time Level 1. Learn music reading and guitar playing technique together, from a book written for absolute beginners. Get all of the music sheets used in the UDEMY course, plus additional content that is not included in the course. Get the book here.
Guitar Bar (Barre) Chord Course
If you've already mastered your basic open chords and want to develop your bar chord playing skills, get the course below. It has exercises that will help to develop muscle memory and build strength so that you can play all over the guitar neck.
How to Play Guitar Bar Chords – The no pain, only GAIN, way to master bar chords on guitar.
New FREE Music Notation Course
Learn to write Guitar Standard Notation and TAB with this FREE course Write Guitar Music Notation & TAB with Noteflight FREE
Skillshare Course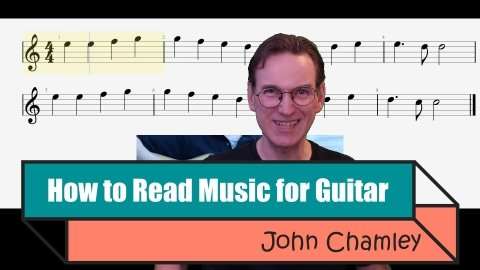 More information about Skillshare FREE or Paid Courses here.
Weekly YouTube Videos
Check out the GuitarBasement YouTube channel. Get FREE lessons, great tips, music product and book reviews, as well as just plain old good information. Be in the know – subscribe today. Check it out!
Online College Level Music Lessons
Watch a review on courses available at Berklee Music College Online.