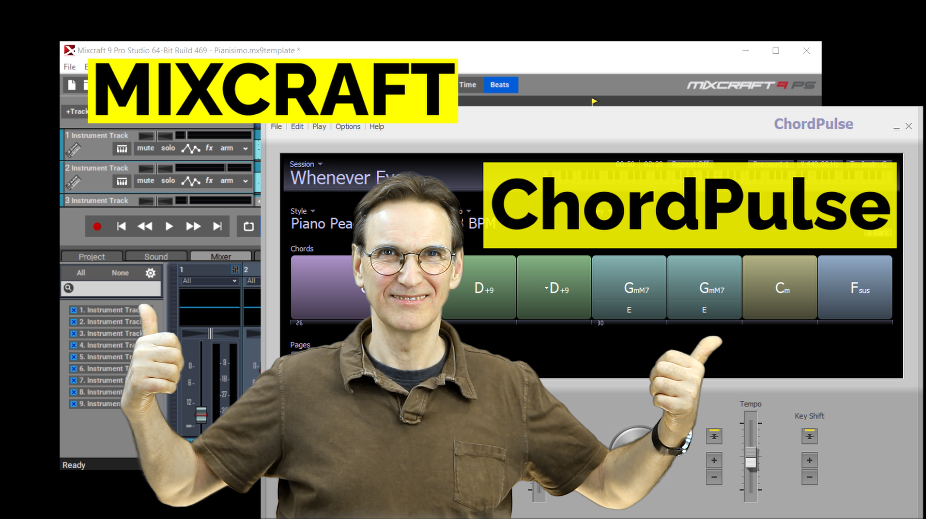 How to Create ChordPulse MIDI Files
ChordPulse MIDI files are a type of file that can be taken into other programs such Digital Audio Workstations (DAW's) or music notation programs. You can take chord progressions and arrangements created in ChordPulse and modify them in other programs.
ChordPulse, a backing track creator, is a Windows based program used to quickly create an accompaniment with multiple instrument . Simply enter chord names and types for each bar of music then playback the result using a variety of styles at the tempo you select.
Watch below for the inside scoop on how you make backing tracks in ChordPulse. Then transferring the result into Mixcraft using MIDI.
Mixcraft is one of many Digital Audio Workstations (DAW's) that can import and process MIDI files. The same concepts shown in the video below will work with other DAW softwares such as Pro Tools, Cubase, and many others.
ChordPulse Giveaway
Between January 22, 2023 and Jan 31, 2023 anyone over age 18 can enter into a ChordPulse Giveaway on YouTube. This is how to enter.
Visit the @GuitarBasement YouTube channel and watch the video on how I created a new arrangement for the guitarbasement theme using ChordPulse.
Subscribed to the GuitarBasement YouTube channel (if you are not already subscribed).
Write a comment below the video on If you never tried ChordPulse, download a copy and take it on a testdrive.
Using ChordPulse with Mixcraft
Learn how to select chords to make the best sounding Chord progression in ChordPulse. Find a groove that you like, then export ChordPulse MIDI files.
Import the MIDI file into Mixcraft (or any other DAW) and use each track to drive various MIDI instruments. Select the best instruments in your DAW to create the sound you like.
Once you have the sound you like, record vocals and other instruments.
Watch the video below to see how you could use ChordPulse video files in your recordings.
Rules for Entering the ChordPulse Giveaway
ENTER THE CHORDPULSE GIVEAWAY on YouTube
GIVEAWAY OFFICIAL RULES
What's Being Given? ONE FULL LICENSE OF CHORDPULSE
(You can also get a free 14 day trial version, or the free "lite" version of ChordPulse here: http://chordpulse.com/ )
How to Enter?
SUBSCRIBE TO @GuitarBasement (IF YOU ARE NOT ALREADY)
ADD A COMMENT in the Comments section under the video related to the post, or on anything you like about ChordPulse or Mixcraft.

Official Rules
This Giveaway is free to enter for anyone.
The Giveaway begins after this post is made public on YouTube.
The Giveaway will CLOSE sometime between 6pm and 11:59pm on January 31, 2023 (once the winner is selected during that time).
The winner will be selected using a random selection method that will be recorded and posted in a later YouTube video on this channel.
The winner must make contact by Feb 11, 2023 or be disqualified.
To receive the prize, the winner must provide an email address that will be verified before sending a link to download and register the ChordPulse software.
If for ANY TECHNICAL or OTHER REASON it is not possible to deliver the prize, this channel or its owner will not be liable, although a fair attempt will be made to make it work.
Any information collected from this Giveaway will be used for the sole purpose of delivering the prize to the winner.
This Giveaway complies with the YouTube Community Guidelines and entries that do not comply will be disqualified. See details here: https://www.youtube.com/intl/ALL_in/howyoutubeworks/policies/community-guidelines/
This Giveaway is not associated or affiliated with YouTube and YouTube is not a sponsor of this Giveaway.
By participating in this Giveaway you release YouTube from any liability directly related to this Giveaway.