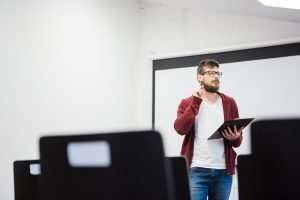 I recently customized a whiteboard for teaching music. The good old-fashioned whiteboard is still widely used and is really useful for teaching music to more than one student. If you customize a whiteboard, it can become a much more effective and efficient way to teach.
How to Customize a Whiteboard to Teach Music
To write music or chord symbols, you need to have lines or a grid to write on. If you need to re-draw lines each time you use a whiteboard, this is too much work and can waste lesson time. I wanted to have permanent lines on my board for writing chords.
These lines SHOULD NOT get erased every time you write on them. My first thought to create those lines was a permanent marker. However, markers can mess up board and actually the lines tend to wear off over time. If you want to see my solution, watch the video below.
Oh by the way, the music I play in the beginning is a new theme for a video course that I am working on. The course will feature the customized whiteboard as well as the colored magnetic disks. See which products I used for the whiteboard in the video below. Affiliate links to some of these useful products are listed below that.
If you use the affiliate links, you'll get the same prices as you do by going direct to Amazon, only this site receives a small commission. THANK YOU for that if you DO!
Customize Your Whiteboard Video
Lessons Learned from Customizing my Whiteboard to Teach Music
Here are some tips to get the best results when customizing a whiteboard with tape.
Make sure that your board is super clean so that the tape will stay on
DO NOT STRETCH your tape…even a little bit. Over time, the elasticity of the vinyl will overcome the adhesive and the tape will lift. When you try to push it down it will not extend as far and before so you may have gaps
Happy taping!
Whiteboard Customizing Products
Disclosure: Some of the links in this post are 'affiliate links'. This means if you click on the link and purchase the item, I will receive an affiliate commission.
GoProver 6-Pack 3mm 1/8 inch Lightning Width Graphic Whiteboard Self-Adhesive Artist Tape, 108 Feet Feet Long per Roll.
Cridoz 15 Rolls 1/8 Whiteboard Tape Pinstripe Tape Dry Erase Board, 108 Feet Per Roll
Bullseye Office Magnets (24 Pack) – Colorful Round, Refrigerator Magnets Nice quality 1″ (25 mm) disks with painted magnets that prevent scratching the whiteboard surface.
Refrigerator Magnets – Colored Fridge Magnets for Whiteboard and Locker Magnets Hard to find this size of magnet 1/1/4″(32 mm). The magnets have no coating so I recommend painting or coating them so that they do not damage the white board, refrigerator or wherever you attach them.
Use These Awesome Notebooks for Music Class
5-Line Music Staff Manuscript Notebook with Contents Pages – Standard 8-1/2″ x 11″ music notation book with numbered pages and blank Contents pages. Each page has 10 staff systems.
Guitar Practice Log book – Weekly Planner: 10 row practice log, 4 multipurpose TAB/staff lines, fretboard length blank chord chart  Lasts well over 2 Years – 1 page per week.
Get FREE Music Practice Log Sheets and handy Books on this page.