Learn to play The First Noel Guitar Solo. Download the FREE TAB/Notation sheet and listen to the mp3 track below. Then subscribe to the Guitarbasement YouTube channel to be informed when the tutorial is available.
According to Webster's dictionary, Noel means Christmas Song. There are numerous recordings and arrangements of this song and for good reason. It's a great song.
If you play a little fingerstyle you should be able to play this. You can even play this as a beginner. But if after watching, you still find this hard, try playing just the melody. Or this would also work nicely if you play it together with another person.
Files for The First Noel
Early Beginners' Guide to The First Noel Guitar Solo
The easiest way to play this is to play all of the top notes, leaving out the bass notes. If you are a beginner learning to read notation, the higher notes in the chorus will probably be unfamiliar to you. Simply follow the TAB notation to locate the high notes.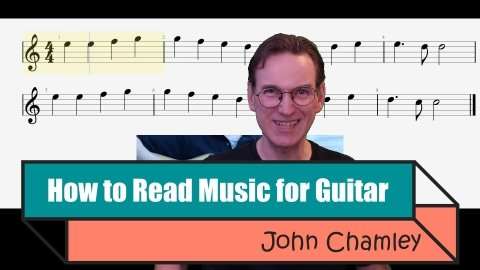 Learn Fingerstyle Guitar & Read Music – Beginner's Course Get this 4-hour Fingerstyle Guitar Course on Udemy. New special discounted rate expires DECEMBER 9TH 2020 (Coupon code is embedded)
Beginner & Intermediate Players' Guide
Although this Christmas song arrangement has some complexity to it, there are no bar chords required to play it. The places where you may have most difficulty are holding down accompaniment notes while playing melody. Watch the video for playing tips.
Whether you play this on Acoustic, Classical or even electric guitar, let the melody stand out. This is especially important when you are playing solo guitar.
Beginner's Guitar Crash Course – Learn guitar from scratch in easy steps to fit your schedule. Pick up the basics and start playing, without having to read music. New embedded Coupon code expires December 9th 2020
Other Christmas Songs
Joy to the World – Easy Guitar Solo
Hark the Herald Angels Sing Guitar Solo
Guitar Practice Log book – Weekly Planner: 10 row practice log, 4 multipurpose TAB/staff lines, fretboard length blank chord chart Lasts well over 2 Years – 1 page per week.
Watch video reviews of some great guitar books here.